New Homeowner Projects
After moving back from Boston, we stayed with a friend who had recently bought a new house. In his garage I built him a 9′ miter station and a 14′ workbench. After I had him a nice workspace set up, I proceeded to use it to make him a custom vanity for his second bathroom. Each project was built entirely out of a selection of 2×6 and 2×4 boards, milled as needed.
---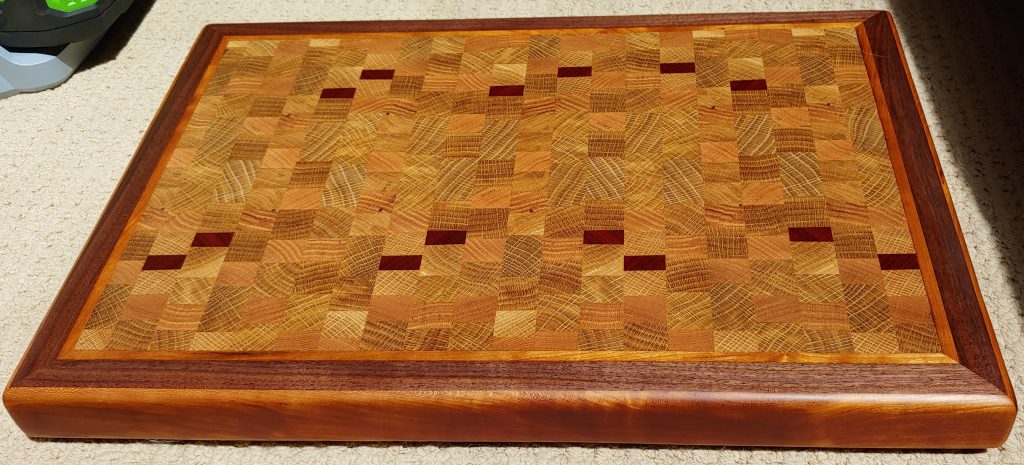 Dad's Cutting Board
What do you get for your dad when you know he can get himself whatever he needs? Nothing! You build him a cutting board instead. Oak and Blood-wood end grain wrapped in Cherry and Black Walnut.
---
My workbench
For me it is important that my home workbench is not only multi-purpose, but also large enough to handle any project. After a bit of time in Fusion 360, this was the design I came up with, and taking inspiration from my time at Design Communications Ltd., building it production style made the process quick and easy.
---
The Dagger
One particular friend asked for something special that could be used for medieval cosplay events, and after some back and forth, this is the design we came up with.
---
Deb's Desk
My friend and building partner decided to build his mother a new computer for Christmas. Half way through building the computer, we realized she needed a desk to put it on. Cherry live edge with hand cut white oak diamond splines and filled with meticulously layered acrylic pours.